January 2016 – Own A Piece of POD – Modular Tent Enterprise Launches Exciting Investment Opportunity
POD is seeking investors for its dynamic modular tents, with a brand new Seedrs campaign.
POD, the pioneering camping brand which brought tents into the twenty-first century with innovative modular options, has announced an exciting opportunity for investors to own their very own piece of POD. With a new Seedrs campaign up and running, the team at POD are seeking engaged investors to join this exciting journey, as they seek to revolutionise camping even further with the new Elite POD tents.
POD offers the world's first modular camping experience, with tents designed and engineered to be linked together. For many, camping is a social activity, and the POD tents allow users to connect their tents on the fly, building bespoke accommodation layouts that suit their needs – whether they're a family on a camping trip or a group of pals at a festival.
Jason Thorpe, Managing Director of the newly-formed POD Tents Ltd, says, "This is a truly exciting opportunity for investors to not only own the product, but to own a piece of POD itself. Our aim is to take POD to the next level with a new calibre of Elite designs – but in order to put those into production, we need engaged investors on board; investors that are enthusiastic about our mission, and support our quest for global POD domination!"
The structure of the investment will mean that POD Tents Ltd owns all of the IP and stock for POD, and will also be compliant in the Seed Enterprise Investment Scheme (SEIS). The SEIS offers excellent tax-efficient benefits to investors, in return to investment in small and early-stage startup businesses within the UK. Investors can receive up to 50% tax relief in the tax year the investment is made, regardless of their marginal rate.
Jason adds, "With the SEIS in place, investors have a bigger tax incentive than ever to put their money where their mouth is. The Enterprise Investment Schemes and Venture Capital Trusts have also been recently revamped, which means there's never been a better time for investors to pledge their support to startups like ours."
POD Tents Ltd is currently seeking to raise £100,000 from investors through their Seedr campaign. The potential for POD to become the market-leading modular tent solution is enormous – and now investors are being offered the opportunity to get in at ground level and be part of this exciting new venture.
For more information about the Seedr campaign, visit the campaign page: https://www.seedrs.com/pod-tents?promo_code=RKXO1RF3#qa or search for #investinpod via social media.
To find out more about POD and their products, visit the website: https://www.podtents.com
September 2015 – POD all over the web with their Tents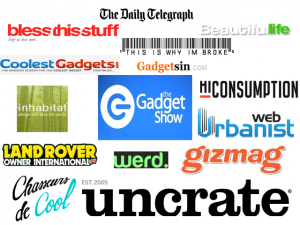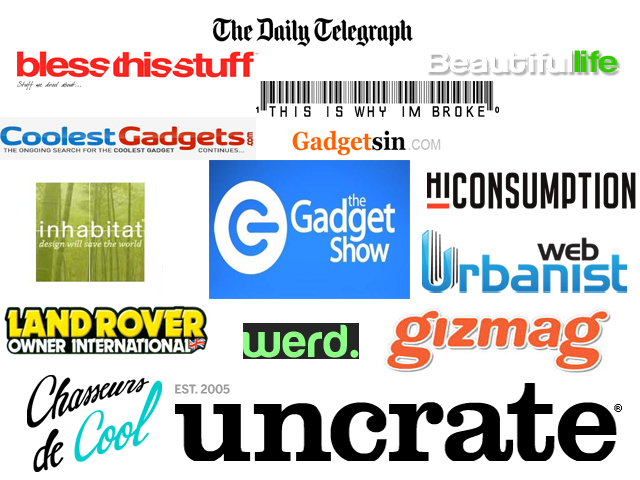 POD has been all over the press and blogging / Gadget sites over the past few weeks as people wake up to the amazing world of POD. It seems that we might just of designed something that truly changes the way people look at camping and drag it into the 20th century by breaking the mold of the conventional.
The functionality and empowerment in giving people the ability to build what they want seems to of struck a cord on a global stage and there was even a suggestion by one site that we'd invented the perfect tent for swingers !
Here are some links from some pretty big players in the Gadget world about POD ..
http://trendinc.today/pod-tents/
http://uncrate.com/stuff/pod-tents/
http://chasseursdecool.fr/pod-tents/
http://www.coolest-gadgets.com
http://www.thisiswhyimbroke.com
August 2015 – POD Tents Set Sights on Global Markets for 2016 with Elite Range
Following a successful 12 months for POD's revolutionary modular tents, which have been featured on Channel 5's The Gadget Show and most recently in WIRED magazine, the company is now focussing on expanding into global markets with its new Elite range, set to launch early 2016.
After exhibiting at the European Outdoor Trade Show, the latest camping must-have product has received major coverage and interest not just in the UK, but also across Europe, South Korea, the USA and Australia. POD is now looking for global distribution partners to push the brand on all corners of the world and give POD a global audience.
The all new POD Elite range will go even further to create a social camping experience with interconnecting tents. Totally innovative and stylish, further improvements have been made to the Elite range including enhanced UV protection and a lighter weight, more durable design. Functionality and fun unite in this bespoke camping product.
Jason Thorpe, director of designers M2C Innovation said, "As a result of the unbelievable success POD has seen in the first year since we launched, we're excited to expand into global markets to make sure campers all over the world can have access to this unique product. The POD Elite is the ideal companion for regular campers who like to be social and have fun wherever they set up camp."
The reason why POD has proved so popular within the outdoor leisure market is because the product is unique and fully customisable. POD tents can be externally and internally adapted to create communal living spaces and private sleeping pods for large groups. What's more, each POD can be connected to another  POD, allowing huge groups of revellers to camp together. Putting the fun back into camping, POD tents are perfect for festivals, glamping or summer family holidays.
The inaugural range of tents included the POD Maxi and POD Mini, for sleeping eight or four people together in one tent with separate rooms. Happy campers can expect to see a host of exciting new features in the Elite range, along with improved durability and functionality for the ultimate camping experience.
Global distributers which are interested in selling a fresh new brand that offers an alternative to the mundane traditional camping tents then please contact POD for further details on sales@podtents.com
March 2014 – Festival Goers Urged To POD Their Posse with Unique Tents
The festival camping experience is set to receive an even bigger dose of community spirit this summer as a unique British test design urgers music fans to POD their posse. POD Tents is set to revolutionise the sleeping and socialising situation at festivals for regulars on the scene, with its unique interconnecting tents that create the perfect camping community for a weekend at Glasto or V Fest. With Mini and Maxi sleeping pods that are private and personalised, and the ability to build camps in a variety of formulations and layouts, festival campsites have never been such fun.
Any festivalgoer who has ever spent a weekend in the mud will understand the trials and tribulations of trying to find a good camping spot with a large group, and the encroachment of other people's tents into your area is a minor annoyance at the best of times. The new POD Tents allow campers to connect their tents up in a number of unique formations that create a united camp, perfect for festivalgoers who have spent the day watching their favourite acts on the Main Stage.
Jason Thorpe director of POD Tents designers M2C Innovation said, "Our brand new concept in outdoor accommodation and camping gear is helping festivalgoers to create their perfect campsites when they arrive at Leeds, Parklife, Wireless or IOW. Personal sleeping pods allow the privacy of a separate tent, but the connecting corridors and tunnels help to keep everyone together and can create unique communal areas that groups of friends will lose at a festival."
Spacious on the inside and stylish on the outside, POD Tents are the ideal companion for groups of friends heading to a festival. The tents are also incredibly flexible, so if a friend drops out at the last minute, or if someone stumbles across a spare ticket and decides to join the group, there is no need to rejig everyone's sleeping arrangements. One less tent won't affect the others' ability to link up and create a camp, and anyone joining the group at the last minute need only purchase a POD add-on that can be linked with the existing tents.
The tents are so effective and comfortable that they won't be left behind at the end of the festival, like many of the cheap one-man tents that barely make it through the weekend. The high-quality materials and construction of the tents mean that festival regulars will be able to enjoy their portable campsite again and again, revelling in the social element and the privacy of their own pod at whatever music festival they end up at.
March 2014 – POD in Business Weekly magazine 
POD Tents and our MD Jason Thorpe appear in business weekly magazine this week in an article about the UKTI support we have had in making the POD tents available to a global market place.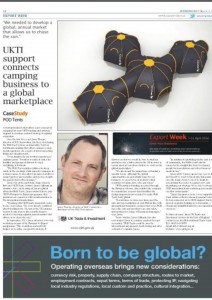 Link to Business Weekly Magazine ( page 12 for article)
March 2014 – POD in Daily Telegraph Ultra Travel – Travel Tech
POD Tents were featured in the Spring edition of the Daily Telegraph Ultra Travel magazine for Ultra Tech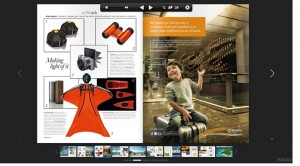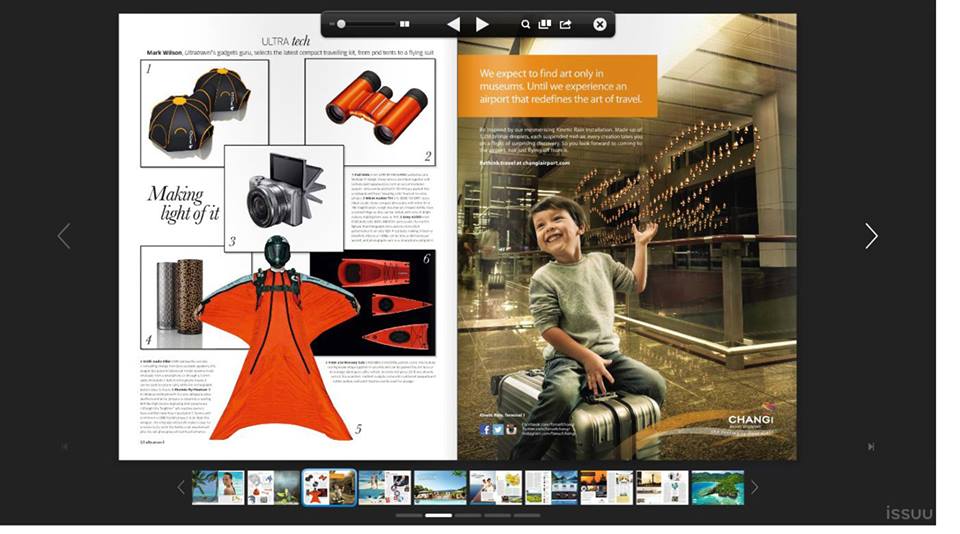 Link to Online Magazine ( article on page 24)
March 2014 – POD used as case study for UKTI 
A start-up business that offers a new concept in camping has used UKTI funding and advisory support to develop a robust strategy for global expansion.
Over the last two years Jason Thorpe, Director of M2C Innovation, has been developing the POD Tent system, an innovative twist on traditional camping that offers campers a more social experience via a series of interconnecting living and sleeping tents.
"I was inspired by my festival experiences," explains Jason. "I wanted to make it easier for families and groups of friends to enjoy socialising at festivals. The POD Tent enables children to sleep safely in the evenings while parents commune in a shared space. It also allows groups of adults to camp together and socialise undercover, despite the gazebo bans often in place."
Jason was at the prototype stage when he first met UKTI Trade Adviser James Gillespie in summer 2013. On hearing of Jason's global vision for POD Tents, James invited him to join UKTI's Passport to Export programme that provides new exporters with an introduction to the international marketplace. "Working with UKTI made immediate sense to me," says Jason. "We were already confident about trading in the UK, but as the UK summer season is only four to five months long we needed to develop a global, annual market that allows us to chase the sun."
In September 2013 Jason attended a two-day workshop as part of the Passport to Export programme. "The workshop undoubtedly helped us to refine our growth strategy. It showed us that we would be wise to trial our products over a full season in the UK in order to ensure product excellence before we took on the global marketplace."
"We also learnt the importance of having a specific focus: although the global opportunities are potentially huge for our business, we need to be clear about which countries to tackle, how, why and when."
UKTI matched funding, accessed through the Passport scheme, also enabled the company to commission a report that identified the design improvements required to make POD Tents truly global. "For instance we have now increased the side and top ventilation of each POD in line with international standards, ensured that every POD has a fire exit, and provided care and safety instructions in a range of European languages," says Jason.
Trade Adviser James Gillespie has also encouraged Jason to consider markets beyond recreation. "POD Tents could be used by international aid agencies, both during and after a disaster," explains James. "In addition to providing shelter and a sense of community, the PODs could also be connected in straight-line form to channel people for inoculations and other forms of medical care."
Jason adds, "James opened my eyes to the fact that if we want to break into this market over the longer term we need to begin by researching the routes to market now, and identifying our strategy. We're due to attend a UKTI international aid workshop next month as our first action point."
"James has proven to be a very supportive trade adviser who is extremely product savvy. He has connected us to UKTI support that has proved crucial in helping us to formulate a strong and insightful plan for our expansion overseas."
February 2014 – Revolutionary Interconnecting POD Tents Make 'Glamping' Easier for UK Holidaymakers
A revolutionary range of interconnecting tents are set to become this year's glamping must-have, as new statistics reveal that 15% more people are opting to stay in the country and enjoy their holiday on home shores. The POD tent is helping thousands of UK residents to find beauty in their home country and enjoy a fun and friendly holiday, with their interconnecting passageways and unique ability to morph into bespoke accommodation, wherever they may be.
Camping can often be a solitary experience, especially if you only own a one-man tent. The POD tents are helping to redefine camping for those who love spending time with their nearest and dearest and enjoying the great outdoors. Each tent can be connected up with a neat corridor, with an unlimited number of formations to choose from. Up to 20 people can be accommodated, so your next camping trip needn't be a trip for two to a remote peak; invite the entire family and get your POD on.
Jason Thorpe of POD tents, says, "We created our range of innovative interconnecting tents to make outdoor holidays a breeze. In removing many of the obstacles associated with these kind of holidays, we have essentially offered campers and families a complete portable accommodation solution that gives them options and choice. Putting up the POD tents and connecting them together takes just minutes, and they different mutations the tents can take on are all part of the fun of camping."
POD tents are suitable for all types of camping groups and parties. Friends going on a camping holiday will surely need a communal socialising area where they can hang out, play guitar and swap stories after dark. With one POD tent in the middle, and corridors leading to each person's individual bedroom, this social camping dream is a possibility. For families heading on a camping trip with young children, it is important for the adults to be able to check on their children without venturing out into the dark and stumbling to their tent. POD tents make this a possibility, allowing parents and children to have adjoining bedrooms that still offer an element of privacy.
POD campers can effectively build their own community and take it on the road with them. Backpackers will revel in being able to pitch up in different formations every time, families can have fun with their children enjoying the different ways they can pitch their PODs, and casual campers can invite along friends and other loved ones without worrying about whether they have their own camping gear. The POD revolution has begun, and avid glampers all over the country are loving it!
February 2014 – Pod's listed in the "Set you sites on these" article in OCC Outdoors magazine
POD's have been listed in the February edition of the OCC Outdoor magazine as a product to set your "sites" on in 2014 , OCC is Britain's only monthly outdoor industry publication and can also be viewed on online www.occoutdoor.co.uk .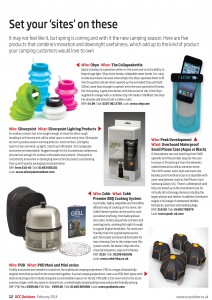 February 2014 – POD Tents Give Festival goers the Chance to Win a Modular Camping System This Summer
POD Tents, the team behind the interconnecting tents that give camping a social edge, have launched a fantastic new Facebook competition that will allow one lucky winner to hire a POD Tent for any UK music festival entirely free of charge.
Whether they intend to live it up at Glastonbury or whether they're attending a local event like Manchester's Parklife or Hampshire's Blissfields, the winner of the POD Tents Facebook competition will be the envy of all festivalgoers, with their interconnecting corridors, their private socialising areas and their uber-comfortable private bedrooms. Entry to the competition is simple: those who want to spend their festival in a swish complex of POD Tents need only like the POD Tents Facebook page, write on their wall stating which festival they are attending, and tag all of the friends that will be accompanying them. Simple!
POD Tents are a unique creation which turn camping into a completely shared experience. Instead of creating a makeshift campsite with small tents dotted around in the same area, POD Tents offers campers the opportunity to build their own camping community, with interconnecting corridors, personalised sleeping pods and the ability to create comfortable shared areas, perfect for festival socialising.
Jason Thorpe director of designers M2C Innovation said, "Our tents are tailor-made for the festival scene, where groups of friends gather together for a mud-filled weekend of music and fun. Our Facebook competition is a great opportunity for a group of music lovers to have their accommodation paid for, and to have the coolest camp in the field. Whether rocking out at Reading or facing sunburn at IOW, POD Tents are the easiest, most stylish and most fun way to camp this festival season."
Those who aren't lucky enough to win the Facebook competition are still encouraged to look at the benefits of investing in a complex of POD Tents. Rather than a group of ten friends splashing out on one-man tents that they will inevitably discard at the end of the festival, the POD Tent solution allows everyone to pitch in and have an interconnecting series of tents that can be used year on year. Not going to a festival next year? No problem – simply hire your POD out to a friend who can then join up with the group. Bringing along someone extra? Welcome them to the camp with the presentation of their very own sleeping pod. POD Tents are a failsafe festival solution, and the Facebook competition is set to make one lucky group of festivalgoers the envy of everyone around this year.
For more information about POD tents, visit https://www.podtents.com  or like them on Facebook: https://www.facebook.com/tentpod
Press release available for download below
December  2013 –        POD Tents Launch World First Modular Camping Experience
The world's first modular camping experience, exclusively designed and engineered in the UK, breaks cover this week with the launch of POD interconnecting tents. As British as a Sunday Roast, the POD adds a fun new twist to the iconic summer staple, with two sizes to choose from, a refreshingly simple build process and pocket friendly pricing.
Totally innovative and created to transform the traditional camping experience, POD is a range of beautifully original tents that are built to be connected together. A social camping experience, users can POD their space with interconnecting tents to build a bespoke accommodation layout on the fly.
By reimagining the concept of form and function, POD has solved a number of common issues with the traditional tent. Perfect for those who want to express their individuality, the POD is the antithesis of standard tents with the two sizes, POD Maxi and POD Mini able to be connected in a multitude of ways. There are no complicated set up instructions to wrestle with making pitching quick and easy and inhabitants do not need to crouch and stoop. Designed to be enjoyed, the POD Maxi and POD Mini unite seamlessly to give endless community opportunities.
Jason Thorpe director of designers M2C Innovation said, "We believe the POD is the first truly versatile social camping tent experience. It is the tent reinterpreted for a new generation. As much social experience as a way of enjoying the great outdoors, the fun of POD is that each unit can be joined together with any other, in any way, to build whatever the user wants. We wanted to put the fun back into camping and with this groundbreaking range, we think we have achieved this. We have worked hard to refine the design and construction of POD, incorporating features such as twin windows, higher wall vents and increased ventilation from user trials to create a 2014 collection that is second to none. Whether you're off to a festival in a field or foreign shores, POD is an essential companion for friends and families who want to holiday together and have the option of privacy."
In addition to its external adaptability, the POD Maxi is also internally flexible with an interior that can be created, adjusted and personally designed on demand. An eight man tent, it can sleep eight people spaciously in an open plan sleeping area or, be configured to sleep four with personal sleeping cells and communal living space.
The POD Mini is a smaller four person tent, sleeping inhabitants comfortably with or without private sleeping cells.
To find out more, see the range and view POD videos, visit https://www.podtents.com
About POD
The new, revolutionary POD designed by M2C Innovation is different. POD is a social camping concept that enables tents to be interlinked in order to build a community. Perfect for a growing family, each family can have their own sleeping POD resulting in undisturbed sleep and meaning that you don't need to buy a larger tent as your family expands – just add another POD. With interconnection tunnels you can safely party into the night with friends whilst staying close to your loved ones – the best of both worlds! A modular design means that you can have a central POD for living in the day and separate internal or external sleeping PODs. Whether you are a welly wearing festival goer, a hardened British camper or enjoy camping further afield POD is the perfect companion.
Press Release for download below: